Good morning!!  Wendy Jordan, Paper Craft Planet Super Nova, as well as a Dreamweaver Stencil Dream Team member.  I created a Dreamweaver Stencil video tutorial for a FUN technique using some products from a "crafty household" name you will recognize.
Before all of the fun begins I want to announce the winner from Wendy Price's Dreamweaver Stencil's tutorial.
Drumroll…….The winner is, Lois Jones!!  She stated in her comment that the stencil of her dreams is LX7019, Large Peace on Earth!!!  Congratulations Lois!!  Please email Pam at phornschu@yahoo.com to claim your prize!!
This week you have the chance to win the stencil of your dreams by visiting the Stencil With Style page, browse the stencils and in the comments section of this post, tell us what stencil you want most from the site.  You have two weeks for comment to win!!
Dreamweaver Stencils hosts a monthly challenge on their Dream It Up blog and generously gives away two prizes a month from the challenge.  This month the theme is Festively Fall.   Prizes are also given from time to time on the Dreamweaver Stencil Facebook page, so be sure to "like" us.
For the next few weeks, Dreamweaver Stencils has collaborated with Ranger Industries, using Tim Holtz Distress Embossing Powder.    Today I created a video on creating backgrounds with Dreamweaver Stencils and Distress Embossing Powder.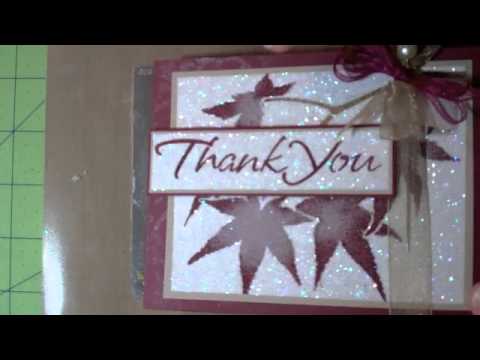 Here is my completed card…
I hope you enjoyed the video and have found a new purpose for your stencils as well as your Tim Holtz Distress Embossing Enamel.
Don't forget to check out Stencil With Style to find the Stencil of your dreams, tell us which one it is in the comments section of this post and you could be a winner.
Dreamweaver also has monthly challenges, you can find out more at Dream It Up.